The Fuel Distributor is the heart of the K/KE-Jetronic fuel injection system, its job is to accurately meter the correct amount of fuel to each cylinder through the fuel injectors. Fuel distributors fail because of contamination caused by an unclean fuel supply or the deterioration of the rubber seals and other components inside the unit due to age and the constant exposure to the high temperatures of its environment.
Due to the fact K-Jet systems were fitted to vehicles such as Porsche, Mercedes, BMW, Rolls Royce & Ferrari in the late seventies to early nineties means that the units are worth reconditioning as the vehicles they're fitted to are usually still quite valuable & sought-after.
Bosch K/KE-Jetronic Fuel distributors are a complex fuel metering device that are not serviceable by most automotive workshops.
Over many years Southport Fuel Injection has developed equipment and sourced parts (some custom made to order by other trusted companies) to enable a complete testing and reconditioning service on all K/KE-Jetronic Fuel Distributors.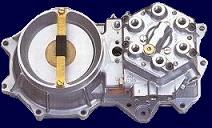 In fact due to Robins expertise in this area many units arrive from all parts of Australia & New Zealand to be reconditioned and returned for many more years of reliable service.
Symptoms of a faulty Fuel Distributor include:
Poor starting, rough idle, poor performance and excessive fuel consumption.
Exchange Fuel Distributors to suit most vehicles are normally in stock, but if not your unit can be reconditioned & returned to you. "Usually same day service".